ITEC (Iowa Technology and Education Connection) promotes the use of technology in education by demonstrating to its members, other educators, and the public, developments in educational technology and how its appropriate use supports teaching and learning.

February Webinar Opportunity
From Drab to Fab: Graphic Design Tips & Tricks for Everyone
Our next webinar opportunity will be on Friday, February 24 from 11:30 a.m. to noon.. 
Do you want to take your teaching and learning materials from drab to fab? Join ITEC member Jenahlee Chamberlain and ITEC hosts Andrew Fenstermaker and Lynn Kleinmeyer for our February webinar. Jenahlee will share tons of tips, tricks and resources to help take your design skills to the next level!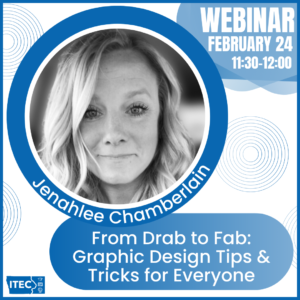 Thanks to our 2022 Fall Conference Sponsors