Fall 2022 Conference Speakers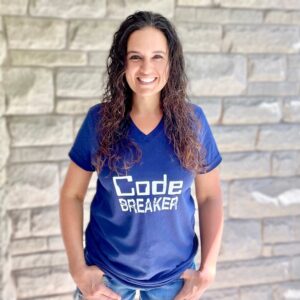 Daphne McMenemy
Daphne McMenemy is an educator, author and speaker. Her first book, Gracie, is based on her personal experiences in the classroom. Gracie is a young girl whose learning is brought to life when her teacher introduces her to coding and a new way of thinking. As a child and young adult, Daphne was focused on becoming an educator with purpose, to improve the lives of her students and make an impact on their educational journey. As an educator for the past 17 years, she has created opportunity for children in her classroom to explore learning in innovative ways. Using STEM to engage children as young as kindergarten age in discovering learning through coding, she develops numeracy, literacy and computational thinking skills through creative exploration. Her experience in the classroom has proven to support even the most hesitant learners in building confidence in their abilities and engaging in the learning process. Daphne is committed to building relationships, meeting students where they are, appreciating each individual, and finding opportunity to engage and motivate students in creative, innovative ways. Her newest venture allows her an extensive creative outlet as Managing Director of Code Breaker Inc.
Aaron Maurer
Aaron Maurer, also known as "Coffeechug" is the STEM Lead for 21 school districts in Iowa helping to expand STEM, Computer Science, Makerspace, and Purposeful Play into classrooms K-12 for the Mississippi Bend AEA 9. He is on a quest to bring more wonder and play into the learning process in schools to further develop lifelong learners.
Modeling being a lifelong learner, Aaron recently published a book, "Smart Robotics with LEGO MINDSTORMS Robot Inventor: Learn to play with the LEGO MINDSTORMS Robot Inventor kit and build creative robots". He has a second book coming on 2022 titled, "Design Innovative Robots with LEGO SPIKE Prime".
He is an avid fan of STEM, Computer Science, Authentic Learning, and Project Based Learning. Last, he is an avid coffee consumer searching for that perfect cup of joe. You can find all of his work on his website coffeeforthebrain.com.

Lindsay Zilly
Lindsay Zilly is the Director of Professional Learning for Illinois Digital Educators Alliance. In this position, She is able to create meaningful professional learning experiences for educators, help connect teachers to experts and provide instructional support for educators in the state of Illinois. Prior to this role, Lindsay was an instructional technology coach and intermediate school teacher who worked to foster a culture of innovation in today's generation and partner with them to be responsible and ethical life-long learners of the digital age. Lindsay believes we must demonstrate, guide and help student creativity, critical thinking, collaboration and communication skills in order to be successful 21st Century Learners. She is a Google Certified Educator, Apple Learning Specialist, Microsoft Innovative Educator, Seesaw Ambassador and Apple Teacher 2016. Follow Lindsay on Twitter and Instagram @CoachLindsay
Sarah Staudt
Ms. Sarah Staudt is honored to be selected as an Iowa Featured Speaker for ITEC Conference Fall 2022. She has presented at the ITEC conference since 2014. In addition to be a presenter at ITEC, she has also presented at Central Rivers AEA workshops and webinars, Iowa Association School Librarians (IASL) conferences, various EdCamps, workshops and webinars, and for the last three years at Iowa Reading Association (IRA) and IASL joint literacy conference in Ames each June.
Sarah currently serves as the District K-12 Teacher Librarian for Mason City School District. Of Sarah's 19 years teaching experience, 15 of those years are in the school library as a teacher librarian. Sarah is passionate about teaching information literacy skills, specifically news media literacy, reliable resources and combating fake news. She is also passionate about teaching digital citizenship, helping students become better book browsers and sharing the latest, greatest literature with staff and students.
When Sarah isn't researching and learning about the latest trends in school libraries, educational technology and literature, she enjoys spending time with her family and friends, camping, going to music concerts, golfing and watching sports. Sarah is the proud mom of two sons, Levi (13 years old) and Jacob (11 years old).
Sarah credits the education she received from Ames CSD (K-12), Indian Hills Community College (A.A .in Arts and Sciences), University of Northern Iowa (B.A. in Elementary Education), Buena Vista University (K-12 Reading Endorsement), and Minnesota State University Mankato (M.A. in School Library Information Studies) for where she is at today. Sarah has served on Iowa Association School Librarians (IASL) Executive Board in various positions such as president, vice-president, and past-president. She currently serves as Awards Chair on the IASL Executive Board. Sarah's goal in every presentation she gives is for audience members to walk away with new knowledge, tips, resources that can be used right away, and inspiration!
Lewis Central Community School District
Lewis Central Community School District is a public K-12 school serving nearly 3,000 students in Council Bluffs and Pottawattamie County. Lewis Central was recognized as a STEM BEST HD Program model in 2021 by the Iowa Governor's STEM Advisory Council for work being done by our middle school staff. This comes six years after the middle school was an inaugural Seal of Approval Recipient. Also in 2021, Lewis Central High School was awarded Blue Ribbon designation by the US Department of Education. Staff at LC work to inspire excellence in every one of their students.
Eric Ewald
Eric Ewald is in his seventh year as the principal of Van Allen Elementary in the Iowa City Community School District. Within that role, Eric serves as the Lead Learner, the Chief Storyteller and Chief Empathy Officer. Prior to his current role, Eric has held principalships in both the Highland Community School District and the Marion Independent School District. Eric also works to support other principals, serving on the National Association of Elementary Schools Editorial Advisory Board. Eric is married to an elementary school teacher, and he has two elementary school aged children.